copied from http://www.ajc.com/metro/content/metro/atlanta/1103/20barkill.html
Buckhead shootout victims mourned
Funeral-goers in New York are urged to turn away from violence to 'being lifesavers'
By ERNIE SUGGS and STEVE VISSER in Atlanta for the Atlanta Journal-Constitution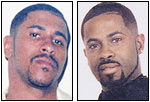 Anthony Jones (left) and Lamont Girdy were remembered in New York services Wednesday.




As police investigators in Atlanta continued to try to piece together what led to a deadly gunbattle in Buckhead a week ago, mourners hundreds of miles away in New York were told to stop wasting precious blood.

"Let's avenge their deaths by being lifesavers," the Rev. James A. Forbes Jr. told a packed crowd at Riverside Church.

He was referring to the shooting deaths of Anthony "Wolf" Jones and Lamont Girdy, who died Nov. 11 on Bolling Way in Buckhead Village after a "hip-hop night" at the Chaos nightclub.

Demetrius "Meech" Flenory, who police believe knew the two men, is being held on two counts of murder in killings that police say may have stemmed from an altercation over a woman.

Police hope a security camera tape from a neighboring restaurant will help clarify whether they're dealing with a case of murder or self-defense.

The police recently searched Flenory's metro Atlanta residence and found a weapon, but they are awaiting ballistics tests, Sgt. John Quigley said. Flenory didn't have a gun when he was arrested after seeking treatment for two bullet wounds at North Fulton Regional Medical Center after the shooting.

Flenory said he wasn't armed the night of the shooting and is a victim. Drew Findling, his defense lawyer, said his investigator has interviewed a number of witnesses who support his client's claim.

"We're confident the tape will show that he did not have any weapon, nor did he fire any weapons," Findling said. "I represent an aggravated assault victim, and there is no evidence to suggest otherwise now."

The lawyer said he is preparing for a Nov. 26 preliminary hearing in which he hopes to either get the charges dismissed or at least get Flenory out of jail on bail.

Police are investigating whether Flenory is part of a group called the Black Mafia Family (not the musical group by that name), whose members reputedly act as both bodyguards and enforcers for hip-hop bigwigs.

People familiar with Atlanta's hip-hop culture said the group is known for rolling into nightclubs and throwing lots of money around on drinks and tips to waitresses.

The Buckhead killings have prompted the Atlanta City Council to consider a proposal to close bars at 3 a.m. instead of 4 a.m. A council committee will take up the issue today.

'They were brothers'

Jones and Girdy were buried Wednesday in New York the way they lived and died -- together. Family and friends -- including their close friend hip-hop music artist Sean "P. Diddy" Combs -- packed the massive church.

The matching gray caskets containing the bodies of the two men, both 38, rested at opposite sides of the pulpit, surrounded by huge floral arrangements. Large photographs showed the men smiling.

Combs, who spoke at the funeral, said that before he arrived at the church he thought about looking up "brothers" in the dictionary to truly define how he felt about Jones, who lived in Atlanta, and Girdy, who had lived with Combs for the past two months in New York.

"But I changed my mind," Combs said. "Wolf and [Girdy] is the definition of brothers. They were brothers to each other and brothers to all of us. I never knew the true meaning of brothers until I met Wolf. I met [Girdy] later, and he just solidified that. They were two of the greatest men that any of us ever knew."

Girdy was remembered as an avid reader with a mind full of conspiracy theories, someone who would never leave a friend behind. Jones was remembered as a loving and loyal friend, devoted to his family, parents and five children.

In death they were treated like stars. The funeral home handling the arrangements was the Frank E. Campbell Funeral Home in Manhattan, which handled arrangements for such celebrities as John Lennon, Jacqueline Kennedy Onassis, pop star Aaliyah and rap star Notorious B.I.G., a close friend of Combs who also was gunned down.

A violent past

Anthony Van Jones was born Feb. 20, 1965, in New York City, the eldest of three sons. According to members of his family, as his hair started to grow, he developed a widow's peak and adopted the nickname "Wolfgang," which eventually became "Wolf."

Jones graduated with Girdy in 1983 from the Bronx's Harry Truman High School. He attended Bronx Community College for a while and worked odd jobs at United Parcel Service and in construction before landing with Combs as a bodyguard.

But Jones had a criminal past. He was convicted of attempted murder in 1991. He was the prime suspect in a 1995 Atlanta killing during a confrontation outside the now-defunct Club Platinum on West Peachtree Street. Combs also was present during that confrontation. After Jones' death last week, Atlanta Police Detective Steve Balkcom closed the 1995 case.

In 1999, Combs, Jones, Jamal "Shyne" Barrow and singer Jennifer Lopez were in a Manhattan nightclub when shots rang out. In 2001, Barrow was convicted of wounding two men in that shooting and sentenced to 10 years in prison. In the same trial, Jones was acquitted of criminal possession of a weapon and Combs was acquitted of weapons and bribery charges.

About six weeks ago, Jones indicated he was ready to change his life, said Atlanta Hot-107.9 announcer Emperor Searcy. "He was saying there wasn't anything in the clubs but trouble."

Combs said he and Jones met in Miami the weekend before the Buckhead shootings.

"We had a good time. We watched the fight, had dinner," Combs remembered. "He was calm, peaceful, positive."

'Prince of the family'

Lamont Anthony Girdy was born seven months after his friend Jones on Sept. 18, 1965, in an area of the Bronx known as the Valley. The youngest of three children, Girdy was regarded as the "prince of the family," said his niece Cherise Girdy.

"He had so much love," she said. "People knew not to go too far with him, but he still respected people."

Girdy left New York in the early 1990s to move to Atlanta and pursue a career in music. He moved back to New York this summer to spend more time with his son, Lamont Anthony Jr.

Combs said Girdy impressed him with his seriousness about getting his life together.

Girdy and Jones' plans to get their lives back together came to a brutal end around 4 a.m. Nov. 11.

Earlier Jones got into a spat with his girlfriend, an exotic dancer, who had come into the club with a group of men, which included Flenory, said club owner Brian Arlt, who also spells his surname Alt.

The girlfriend knocked Jones' cap off his head and Arlt said he told Jones at 1:30 a.m. that he had to leave to quell potential trouble. The club owner didn't think the girlfriend was with Flenory.

Jones left peaceably but at some point apparently got together with Girdy, who had not been at the club. The two men apparently ended up outside the club sometime before it closed at 4 a.m.

What happened then isn't clear, but Girdy died at the scene from a gunshot to the chest and Jones died at Grady Memorial Hospital. Both Jones and Girdy were found with weapons next to them and about 27 rounds were fired.

As Forbes concluded his sermon, he again reminded the audience to "stop pimping and doing bad stuff."

"Since they are dead," the minister said, "why don't we make up our minds that violence has got to go?"

Staff writer Sonia Murray contributed to this article. Ernie Suggs' e-mail address is esuggs@ajc.com. Steve Visser's e-mail address is svisser@ajc.com.